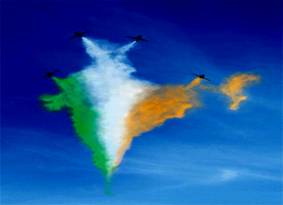 How do you describe the August Samaroh?  An intimate gathering of amateur music lovers celebrating three major Indian festivals through music.   It all started with Sunitha's fantastic idea to celebrate all the three major festivals of August through our Samaroh – Ganesh Chaturdhi ,Janmashtami and the Independence day. It was, indeed, a great privilege   and a novel experience to have celebrated these three grand festivals through our humble music offerings – our Srgmaanjali.
After a flurry of emails, the date had been fixed, and Usha enthusiastically jumped in to host the Samaroh at her place.
Our Compere Extraordinaire…
Naresh promptly booked his lightning flights – zipping in and out of Raleigh the same day, changing flights, compering the Samaroh in his inimitable style, presenting a difficult Tillana, managing a quick bite – and reaching Albany in time to teach his Sanskrit class at the Temple there.
Our Gracious Hosts…
Right from the moment we stepped in to the cozy home of our gracious hosts – Usha , Krish, and her awesome children – made all of us feel at home and made sure that we all had a great time at their place. They also came up with a beautiful video of the entire Samaroh with appropriate captions.
What a Samaroha…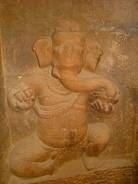 We extolled the virtues of Lord Ganesa, the God of wisdom and prosperity with our songs 'Gayiye Ganapati' in Raga Keeravani and 'Vatapi Ganapatim Bhaje' in Raga Hamsadhvani. Sunitha improvised a soulful  Aalaap and Svara Kalpana for Raga Keeravani, and its stirring melody was very meditative and brought out the Raga Bhava, and touched our hearts.
Sunitha also taught us the kalpana Svaras in 'Vatapi', training our ears to the intricacies and subtleties inherent in the music, and we all thoroughly enjoyed learning them. We really are grateful to Sunitha for breaking down all the complex Kalpana svaras into easily understandable patterns, and making us master them with her enormous patience and determination. She believes in all of us more than we do in ourselves. And she proves it time and again.
I always wondered what the word 'Vatapi' meant, and my surfing revealed the story of 'Vatapi ganapati'.  
Vatapi (a corruption of the place called Badami) is located in the present day Bijapur district of Karnataka State. It was the capital of the Chalukyan ruler, Pulakeshi. After the Pallava king Narasimhavarma (AD 630-668) conquered Badami, an image of Lord Ganapati was brought from there to the location of Tiruchengattangudi, near Nannilam in Tanjavur. This was the home town of the Pallava chieftain Paranjyoti, who later became a devotee of Lord Shiva, and changed his name to Ciruttondar (one of the 63 Nayanmars). The idol was later installed on the southern side of the Arddha Mandapam in the temple, formally known as Ciruttonda Ganapateeswaram.This Ganapati was formally called "Vatapi Ganapati" since it originated in Badami.
At some later period, this served as an inspiration for a "Vatapi Ganapati" idol in the Tiruvarur temple complex. This is the idol that Dikshitar sang about in his Hamsadhvani composition, "Vatapi Ganapatim Bhajeham….." The temple at Tiruvarur is often known as "Muladhara Kshetram," and this phrase occurs in the Charanam of the Kriti. There is a triangular shaped frame surrounding the figure of Ganesha in the Tiruvarur idol, which might have prompted Dikshitar to use the phrase "Trikona Madhyagatam."
I am so carried away at this point, that I do have to share the picture of Vatapi Ganapati with all of you.  Hope you all noticed the Ganapathi picture I pasted above.
We sang the 'Jahaan Dal Dal par' song with gusto, as we were all charged up with the inspiring words of the song, and were swept by a surge of patriotism. This was by far the best Independence Day celebration I ever attended.
We managed our group songs fine  – 'Gayiye Ganapati, Jahaan Dal Dal par, and Vaatapi  Ganapatim Bhaje' –  though we might have found ourselves at quite a different Shruti/pace from where we started those songs. Being the kind teacher that Sunitha is, she said that we did a good job given all the complicated Svaras and Alaap. We know that there is always some room for improvement!
The evening went by quickly, with songs from various regions, styles and themes stirring up patriotism, romance and devotion as SRGM members presented songs on Ganesha, Krishna and in praise of our great Motherland. Lord Krishna made HIS presence felt throughout the evening as songs were sung about HIS glories in various forms – as a naughty child,  as a divine lover, as an enthralling player of flute, and as the  Jagadguru. The mere mention of the words, 'kanha' kanhaiyya, ghanshaam, vanamali, nandlaala, hari, govinda, conjured up endearing images of Lord Krishna, as the singers transported us to the playground of HIS Divine Leelas. 'Yaa Ramita vanamalina sakhi' was the popular song of the day, sung both by Manju and Poonam. It was a treat to watch Mubeena sing the song 'Yashumati maiyya se bole nandalala' with Sumukh sitting in

front of her. It was very touching to see the way Sumukh adoringly looked at her, as well as the motherly love and affection in Mubeena's eyes.  They made a perfect Yashoda Krishna pair.
The all-men team – Mukund, Naresh, Subhash and Srinivas did an excellent job in presenting 'Sharada Bhujangam' – with each of them adopting one Raga. Not to be outdone by them, the all girls team – Mubeena, Usha, Kala and Ramya – sang poet Jayadeva's  'Dasavatara Stotram' singing the glories of Lord Vishnu in HIS various incarnations.
Our host, Krish, presented us with a patriotic song by the great poet, Subramanya Bharathi,  and explained the meaning of each stanza. The song was one of the classic examples of Subramanya Bharathi's progressive thoughts and his nationalistic spirit.
Gourmet Dinner…
It was a great evening where the 'khaana and gaana were great', as Shobha would put it. There were more than 18 items there, as everyone contributed to the potluck dinner, in addition to all the delicious items made by Usha. We were all thrilled about the amazing Tricolor burfi that Romilla's Mom so lovingly made for all of us.
Sumukh had a gala day that day with two birthday cakes being cut for him.
We had a group photo session after the dinner, and carried home a treasure of memories to last a lifetime.
– Annu